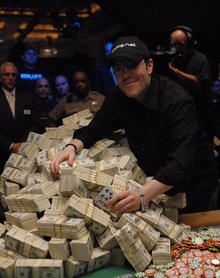 Jamie Gold vandt WSOP Main Event i 2006, hvilket afgjort blev den mest omdiskuterede sejr i turneringens historie. Texaspoker.dk har sendt et par spørgsmål til Jamie om hans tilværelse efter triumfen.
What was the most noticeable change in your life after becoming a multimillionaire?
– I have been able to focus on my huge passion working with helping other people out through my charity work that I now put all my efforts into.
How did the fact that you won the WSOP ME affect peoples perception of you when you traveled the globe playing poker in the aftermath of your victory?
You went from 'Mr. Nobody' to world famous in no time – and for a period everybody seemed to hate you. How did you survive that?
(læs svaret og resten af interviewet længere nede…)
Få de bedste pokerdeals her
– I have or had no problems that people hated me, I know and so do everybody else that I wasn't the best player but I got lucky and still believe I played well, my talkative style at the table seems to have aggravated some viewers and players but I think that poker should be about having fun and believe me I had 🙂 
I'm a strong person who used to work as a Hollywood agent so I can take some crap if needed.
How did your family and friends react to your victory? And do you see these reactions as positive or are they rather a negative side effect of becoming rich and famous in a blink of an eye?
– My closest friends and family have always been very supportive and was just happy and congratulated me when I won.
"The lucky guy who won…"
Do people see the 'guy who won the WSOP' or do you feel that the person 'Jamie Gold' is over shining this fact in your everyday life?
– People that are close to me still see me as the regular Jamie Gold I always been but then of course the general public still see me that they "lucky guy who won", I found that funny and still enjoy being in the spotlight.
Do you feel that you have changed as a person after the victory?
– Not so much, the major change is that I don't have to worry so much about money and more on develop my game and me as a person.
What is the best (apart from becoming rich) and worst about winning a massive event like the WSOP ME?
– Best was the feeling of beating the top players in the world and the worst was that it's very hard to top that 🙂
"I'm not a pro…"
Many negative stories around your person have appeared in the time after you won. How did you cope with that and did it affect your way of behaving when being around other people? Did it affect your ability to focus on the games?
– I don't play that high and are very much aware that I'm not a Pro player in that sense so I play middle stakes games both online and offline and that fact have made it easier for me to not be so much affected and I don't feel that I need to prove myself to anyone but me.
Rumors say that you once bailed out from a hotel bill of $50k – this could seem a little odd given the fact that you've won so much. If it's not true then who come up with stories like that?
– That is of course just a rumor, people with envy I guess…
How did you react to the accusations of cheating in the aftermath of your victory?
– Since I didn't cheat, it didn't affect me.
During last years WSOP you were accused of chip dumping – is dumping chips not a 'crime' in your opinion?
– Again, an accusation is just an accusation and I did not chip dump.
Do you have any regrets?
– No.
"I deserved to win…"
What is your response to those who don't think you deserve to win in 2006?
– That they are jealous and should realize that I know that I was lucky but still you can't win over a massive field like that without any skill – so I believe I deserved to win.
Recently you started up FreeGoldPoker – how is it going so far with this project?
– It's going very well and I enjoy working with this project!
When you play online; where and at which limits and games do you prefer to play?
– I do play online, 5-10 or slightly higher.
What was your reaction to the UB and FTP scandals?
– I think it's horrible how they have treated their players and should pay them back immodestly.
Are you up or down in winnings playing poker if we don't include the WSOP victory?
– Would like to say up but most probably even after travel cost etc.
Which poker player do you admire the most?
– Doyle Brunson